Somehow, I had spent my whole life in Alabama and had never been hunting.  That changed this past weekend.  Joy's Aunt & Uncle were kind enough to let us stay in their beautiful log cabin and hunt on their property.  While I didn't take a shot at a deer, I did enjoy the weekend and even got some use out of my camera.  Most of the weekend was spent in the "Mudhole" shooting box.  This was my view…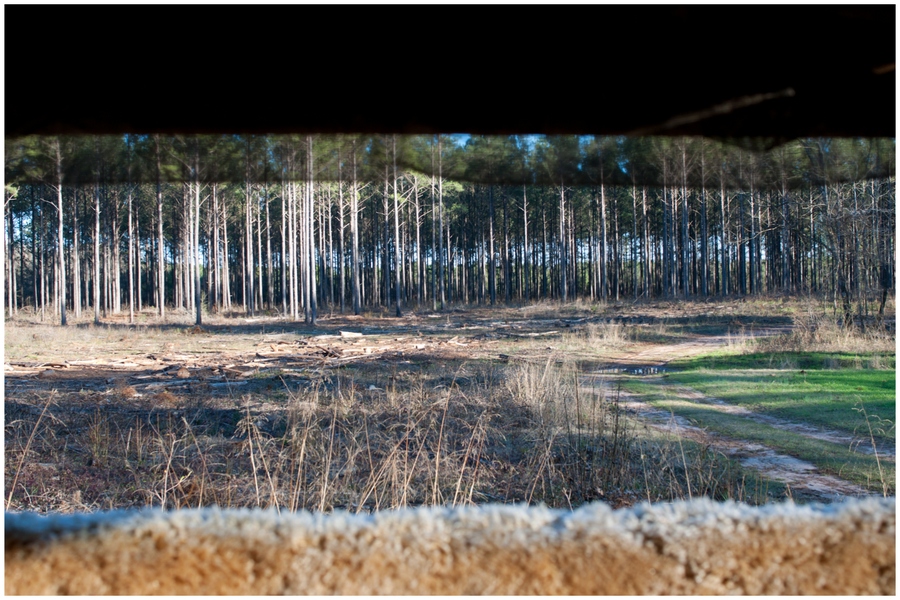 Arriving to the box just before daybreak, it was the perfect place to watch the sunrise.  As the sun rose and moved across the sky, it was an excellent study of light and its effect on a landscape.  The day began with a cool blue light and frost.  The light gradually took on a warmer tone and melted the thick layer of frost.  Each hour brought a vast change in the scenes mood.  Using my 70-300mm lens, it was challenging to find numerous ways to capture the same scene.  When the sunlight began to fade, I was able to capture some long exposure abstract images.  Aside from the final photograph, all the images were taken from the shooting box.
As a photographer, restricting yourself can help to spark creativity.  By forcing you think outside the box, you'll learn new techniques and enhance your skills.  Challenge yourself.  Spend a day capturing a scene at a focal length that you are uncomfortable with.  Sure it will be difficult at first but you'll develope skills to use in your future photography.